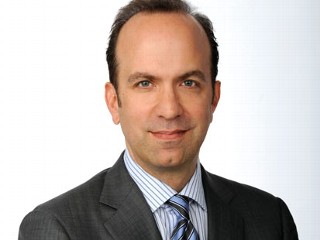 ABC News has finally found a successor to their disastrous President David Westin.
ABC's parent company, Disney, chose a Los Angeles-based writer Ben Sherwood to be responsible for the editorial and business aspects of the network's failing news division.
Sherwood's sister, Dr. Elizabeth Sherwood-Randall, is the Special Assistant to the President in the Obama White House.
"Sherwood is culturally consistent with what you expect—he's not going to hire Rush Limbaugh and Glenn Beck," said a former TV executive.
Who is Ben Sherwood?
Sherwood's novel The Death and Life of Charlie St. Cloud was made into the feature film "Charlie St. Cloud" which starred teen heartthrob Zach Ephron. He also wrote the non-fiction, best-seller, The Survivors Club: The Secrets and Science that Could Save Your Life. Also, Sherwood's novel The Man Who Ate The 747 is being developed as both a major motion picture and a Broadway musical.
Sherwood's wife Karen Kehela-Sherwood is a movie executive. She is the co-chair with director Ron Howard and producer Brian Grazer of Imagine Films.
So what skills does Mr. Hollywood have to run a network news outlet? Not many. Sherwood does not have the experience or ground work that would qualify him to run the $400 million company, according to insiders.
Disney's co-chair Anne Sweeney—who will be Sherwood's boss—went to great pains in the press release announcement to mask Sherwood's inexperience by putting out a two-page, single-spaced press release announcing the appointment.
The release was more like a personal profile for Match.com than a network news announcement. Sweeney stated that Sherwood has "a keen intellect and a truly gracious and generous spirit"—not things often considered important in choosing a business executive.
We learn that he took a year off college, is somehow "award-winning," and that he's published (at least once) in such esteemed publications as Parade and O Magazine. The only information missing from the Disney/ABC announcement is Sherwood's height, eye color, hobbies and drinking habits to complete the glowing personal profile to get a date.
Aside from his lack of executive business experience, Sweeney tried to demonstrate that Sherwood is a journalist, which was one of the central criticisms of his predecessor, the lawyer Westin.
Sweeney said that he "combines an intimate knowledge and success in the news business." Sherwood worked on-and-off at ABC, a total of ten years. He rose to Executive Producer of "Good Morning America" (GMA) from 2004-2006. He was close to the GMA anchor at the time, Diane Sawyer, who now anchors the evening news show and is viewed as the single power center of the network.
He also worked at NBC News for about three years as a producer for "Nightly News with Tom Brokaw." The statement also points to Sherwood's "lifelong fascination with journalism" by citing no less than six different internships during college.
Inheriting David Westin's Mess
ABC News, once the quality news organization and ratings leader under President Roone Arledge, was decimated by David Westin.
Over the past 13 years, Westin did not create a single new program for its news division. Instead, he dealt with dwindling ad revenue by laying off 400 staff in the past two years, closing every domestic news bureau except for Washington, D.C. and Los Angeles.
Westin, apparently under intense pressure from the powerful Diane Sawyer, pushed Charles Gibson out of the evening news anchor chair so she could take his spot.
Sawyer's ratings have been neutral, keeping "World News Tonight" in second place behind NBC's "Nightly News with Brian Williams."
In the high-stakes game of musical chairs, Westin then needed to fill Sawyer's morning slot. He made the bad decision to force George Stephanopoulos to leave the successful Sunday public affairs show "This Week", and take over "Good Morning America", where he seems ill at ease.
Westin's next bad decision was to replace Stephanopoulos on Sundays with Christiane Amanpour, the foreign affairs correspondent, who has no interest in U.S. politics.
Amanpour has refused to move from New York City to Washington, D.C. to cover politics; she is in D.C. only to anchor on the weekend.
Can Sherwood Save A Sinking Ship?
TV insiders presume that Sherwood's job is to oversee Disney President Robert Iger's goal to sell off ABC.
"Sherwood isn't going to reinvent the wheel. They're not going to let him touch the wheel, except to downsize it, to make it smaller, to make it sellable," said a former TV executive.
"Iger gave the wheel to this guy, only to manage the end, but not to build or create anything."
Having been selected by the Disney executives in Los Angeles, some believe that Sherwood is under orders to engineer a sale or merger. ABC has tried to merge with Bloomberg in the past, and may try to resurrect that deal.
Sherwood lives in Los Angeles, but will relocate to New York to run ABC News.
Future of the Mainstream Media
For the midterm elections results night, Fox News was the ratings winner for both broadcast and cable with almost 7 million viewers.
For the broadcast networks, ABC News election coverage was the top-rated for the first half-hour because it followed "Dancing with the Stars", which is the most popular entertainment show this season.
But by 10 p.m., the ABC show, anchored by Sawyer and Stephanopoulos, fell to third place behind CBS and NBC.
"It doesn't matter who the President of ABC News is, it's like who's the president of CNN right now? Who's the president of MSNBC?" said a media expert.
"This is all just closing up shop. They are up for sale. And they need someone to manage it while they go out of business."
Photos courtesy of ABC News.